The Sale Moor Community Learning Centre will be reopening on Monday 3rd August 2020, Monday-Thursday from 12.15pm-2pm, see below for more details.
CONTACT US FOR LATEST PROJECTS AND OFFERS ON FACEBOOK "SALE MOOR" TWITTER @SALEMOORCP OR CALL 0161-962-3636 TO LEAVE A MESSAGE, WE WILL GET BACK TO YOU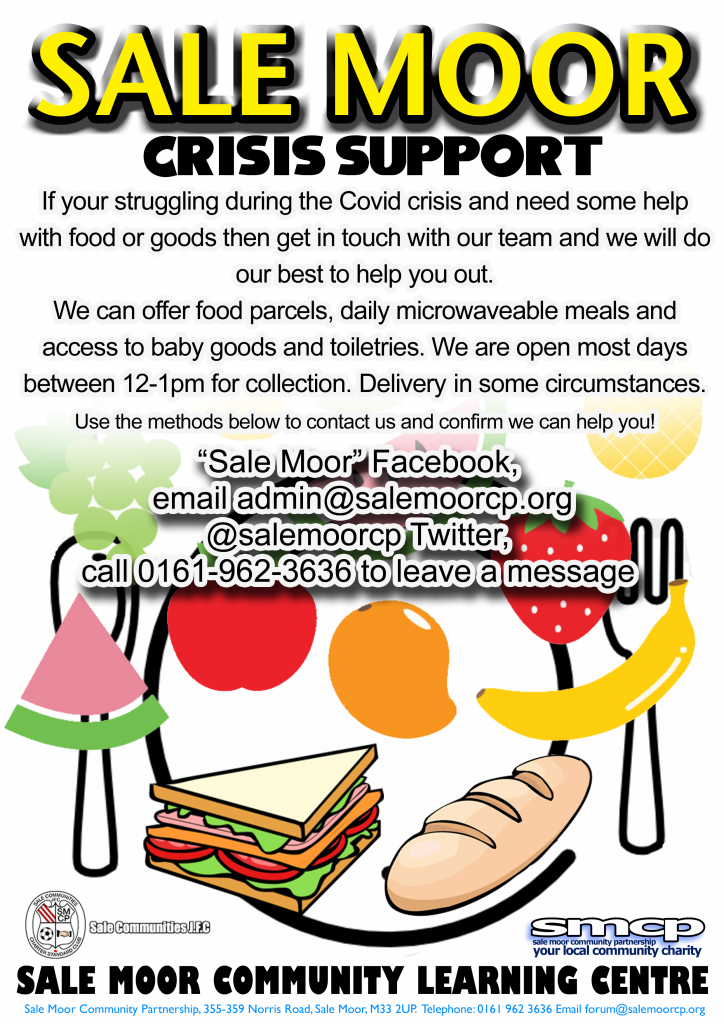 The Sale Moor Crisis Support project is currently focused on providing food for community members struggling during the Covid-19 crisis. Each day we offer a range of microwaveable meals that can be taken away and used as people need. Contact us on the usual channels or just call into the SMCP Offices between 12-1pm Monday-Thursday and see what we have on offer. We also post the daily menu on the "Sale Moor" Facebook page, click here to access.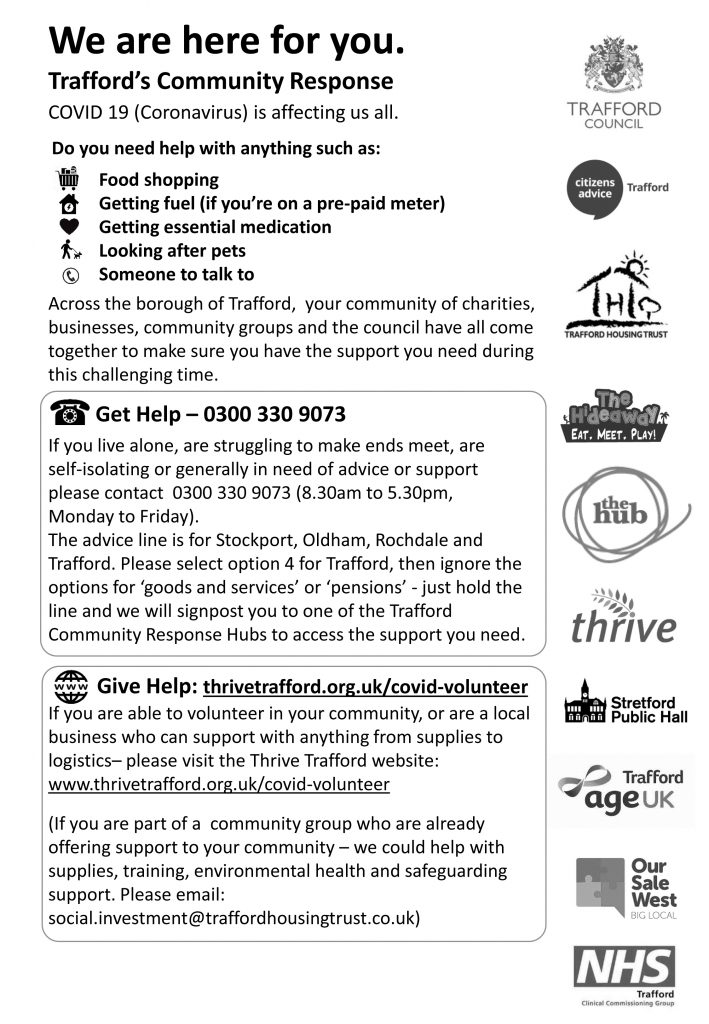 The Sale Moor Community Partnership and the Sale Moor Community Learning Centre is open 4 days a week for one-stop support and drop ins to use the learning centre computers when not in use. During holidays times may change at short notice so please contact us before you call in.
The Sale Moor Community Learning Centre will be re-opening to the public from Monday 3rd August 2020. Opening hours will be from 12.15pm-2pm Monday-Thursday initially with additional times added as we get our volunteers back on board to support wider opening hours.
Anyone entering the centre will be required to provide contacts for tracing, wear a mask at all times and sanitise hands on entry and at regular periods during the session. If you have an exemption we will need to see proof of your condition so we can ensure others using the centre are free to make an informed choice about sharing it with you.
Computers and all the usual resources will be available for the public to use and we will have people on hand to offer support. We will also be able to let you browse the clothes, books and video racks for items to take with you. We will not be able to let people use the gaming equipment for now.
We strongly suggest that you book a time with us, but we will do our best to accommodate people arriving ad-hoc. If you book it is possible we can offer you extended times or other windows where you could come in.
Refreshments will not be available for now so bring a drink with you.
If all goes well we hope to be able to offer some limited capacity children activities in the last couple of weeks of the holidays related to our Sale Moor Lunch Club project. Check back for more details.
(Opening times can also be found on the Home Page).
The current timetable (from August 2020) for clubs, surgeries and activities is as follows: 
MONDAYS – THURSDAYS
12pm-1pm Sale Moor Crisis Support and Lunch Club
12.15pm-2pm  One Stop Support, Internet Drop-In (Please book a time where possible as capacity is limited)
WEDNESDAYS
1pm (pick up time) The Bread & Butter Thing (See poster below. Now at St. Francis, Budworth Road)
6.30pm-8.30pm Brink Young Women's Project
THURSDAYS
10am-1pm Job Club, One Stop Support & Internet Drop-In
12pm-1pm PCSO Community Surgery (Monthly, Drop In or make an appointment)
FRIDAYS
Currently closed unless we have food spare
Project restarting in August 2020, details will be posted here.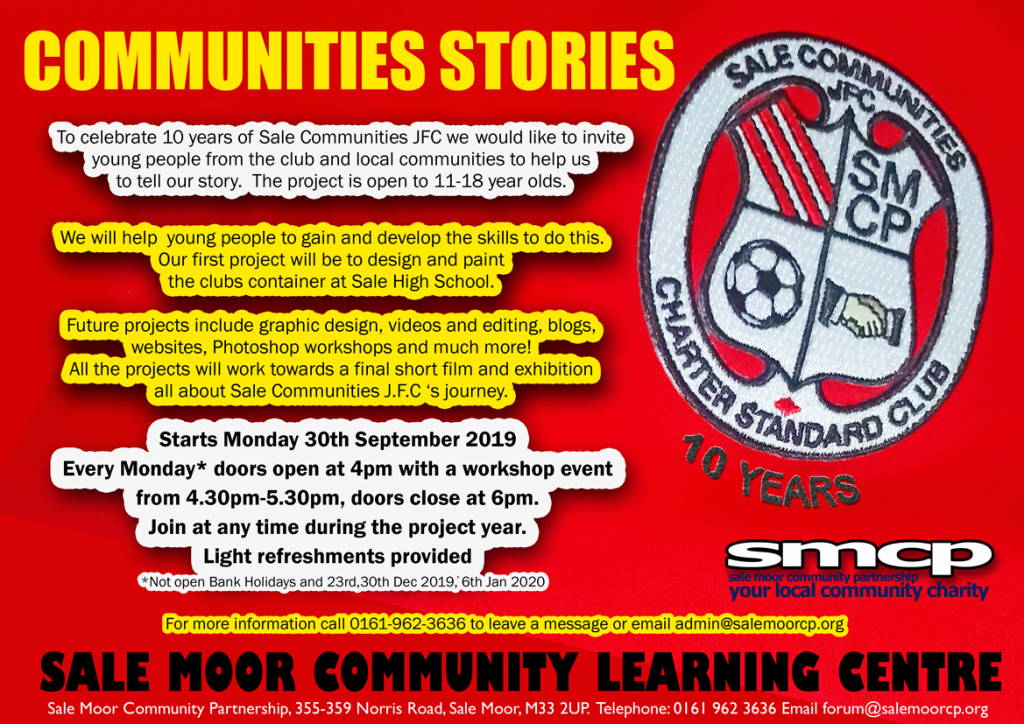 THE BREAD & BUTTER THING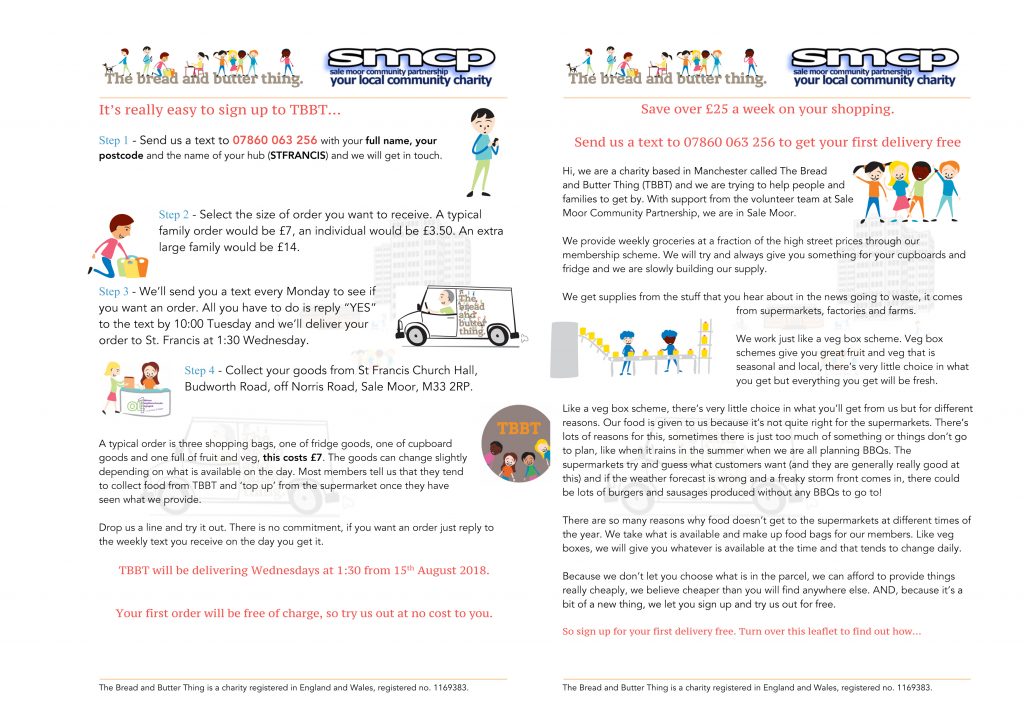 OTHER SALE MOOR EVENTS & ACTIVITIES (To be Updated)